DataGUIDE
Bringing Information to those in need
DataGUIDE is a Windows-based Software application, specifically designed for the needs of production and manufacturing industries.
It is designed to take information from a variety of sources, such as PLCs and sensors, and turn it into useful information for engineers, production staff, quality control auditors, plant supervisors, and

The manual and tutorial movies are available for download
DataGUIDE has the following features:
Create triggers from any signal exposed by any interface
Create 'interval' or internal triggers
Perform an action based on that trigger
Scripted actions which execute on a trigger
All interface signals are available to be used in a trigger or action. The actions that can be performed are as follows:
Create text (log) files recording any available signals
Create binary files with any of the available signals (coming soon)
Create and send e-mails containing log files, binary files or any available signal(s)
Create static web pages (coming soon)
Update database(s) with any available signals (coming soon)
Use custom created functions in .NET to manipulate the data (coming soon)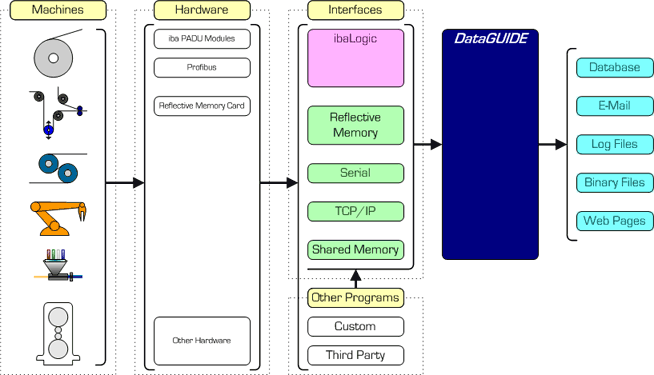 DataGUIDE is at its most powerful and versatile when combined with ibaLogic or PDA (two Real Time Data Acquisition products from iba), but provides excellent results as a stand-alone system, especially when a 'configure and forget' application is required requiring zero maintenance, and no re-configuration after it is in production.
DataGUIDE can be purchased 'off the shelf' or can be customized to suit your information requirements, based on the quantity of data. To request more information please send an e-mail to info@steelcoder.com
DataGUIDE: Get Results