Contact Information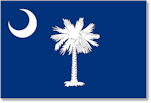 Steelcoder Engineering Inc. is located in Charleston, South Carolina. For technical inquiries, please contact via mail or e-mail:
Stephen J Whiteley
Steelcoder Engineering Inc.
PO Box 80253
Charleston SC 29416-0253
mail: engineer at steelcoder dot com.

Travel to and from Charleston is through Charleston International Airport, with regular flights through the Atlanta hub on Delta Airlines; or via car along Interstate 26.